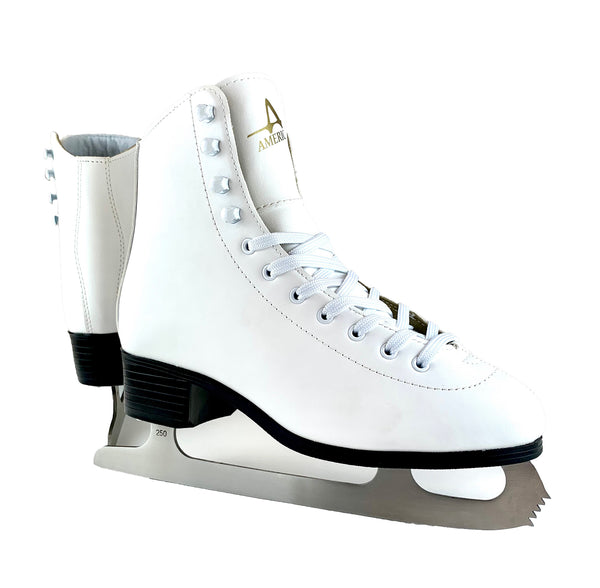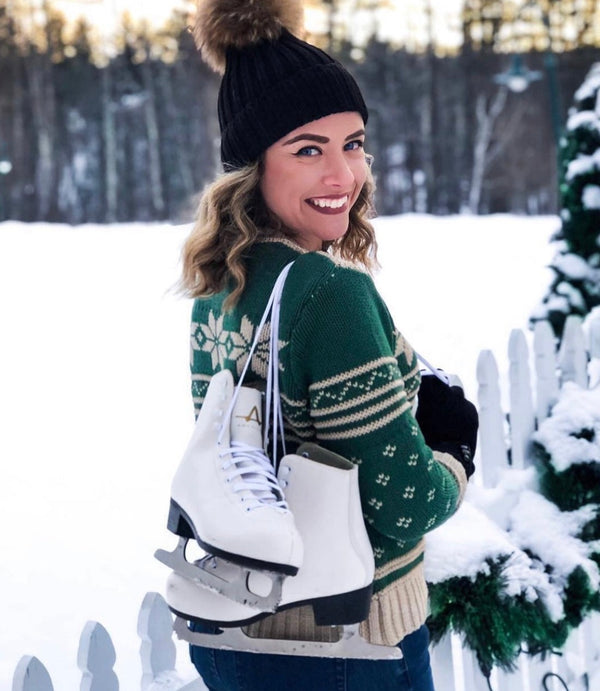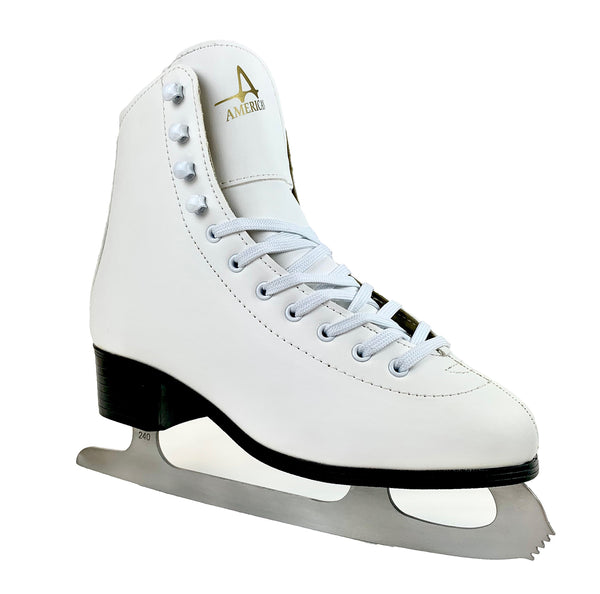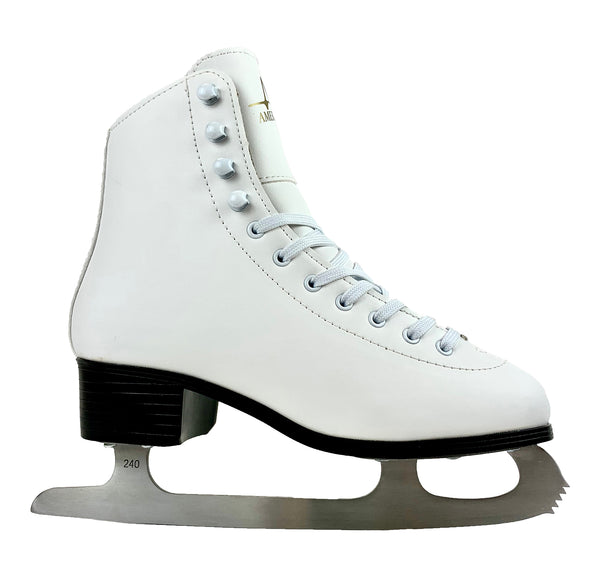 Built for Beginner and Entry Level Skaters
Here at American Athletic, our motto is "Skating for Everyone" so we do our best to make sure our products are offered at the highest quality and at the best price possible. Our Leather Lined Figure Skate has been one of our flagship figure skates for beginner level skaters for over 30 years. Our Leather Lined Figure Skate model is specifically built for beginner and entry level skaters. It can be worn while skating inside at an ice rink or outdoors on a frozen lake or pond. The Leather Lined Figure Skate model comes in white and black colors. They also come in Womens sizes and Mens sizes.
Premium leather boot with full quarter padding for comfort
Reinforced multi-layered ankle support
Easy care durable PVC upper
Hollow ground, nickel plated steel blade
For comfort-fit match to shoe size, for tight competitive-fit downsize
Wipe blades after each use
The Boot Upper
The figure skate boot upper is built with reinforced ankle support, giving you enough support to stand up straight and stride forward. The boot is also built with the perfect blend of flexibility to give you the flex you are going to need while learning how to skate. As a beginner you do not want your ice skate to be too stiff because that's not going to give you enough flex when learning how to skate and you will never break in the skate boot. Our Leather Lined Figure Skate is designed specifically for beginner level skaters and has the perfect blend of flexibility and stability in the ankle area.
Comfort
The inside of the boot is lined with a premium leather inner liner and is backed by extra foam padding. This gives you that extra comfort so you can spend hours on the ice learning how to skate. The shape of our skate boots are made with modern lasts so it's going to fit the modern-day foot much better and its going to give you enough room in the toe box area to lay your feet flat and feel extremely comfortable while on the ice.
The Details
Our white color figure skate boot is accompanied by a black outsole, this is the traditional look of a figure skate. This timeless look allows you to have these skates forever and still be in style.
The Blade
The figure skate blade is a beginner level blade. This is a stainless-steel figure skate blade that is 3.5mm in width. This is an ideal blade width for beginner skaters which helps give you balance and stand up straight. The figure skate toe pick is an entry level style toe pick, giving you enough freedom to make a few mistakes but still stay upright and stride forward.
Customer Reviews
02/01/2021
Margarita S.

United States
Love these skates, great value!
Really love these, great quality for the price. Already skated on them five times and no issues. I think they came pre-sharpened.